Our story
High quality artisanal products.
Sharing tradition & culture.
Our food is healthy and never processed.
Why Ghee
𝘖𝘶𝘳 𝘢𝘳𝘵𝘪𝘴𝘢𝘯𝘢𝘭 𝘨𝘩𝘦𝘦 𝘪𝘴 𝘮𝘢𝘥𝘦 𝘸𝘪𝘵𝘩 100% 𝘊𝘢𝘯𝘢𝘥𝘪𝘢𝘯 𝘣𝘶𝘵𝘵𝘦𝘳, 𝘴𝘰𝘶𝘳𝘤𝘦𝘥 𝘧𝘳𝘰𝘮 𝘭𝘰𝘤𝘢𝘭 𝘧𝘢𝘳𝘮𝘴. 𝘌𝘷𝘦𝘳𝘺 𝘣𝘢𝘵𝘤𝘩 𝘪𝘴 𝘩𝘢𝘯𝘥𝘮𝘢𝘥𝘦. 𝘛𝘩𝘦 𝘢𝘳𝘰𝘮𝘢 𝘢𝘯𝘥 𝘵𝘢𝘴𝘵𝘦 𝘰𝘧 𝘰𝘶𝘳 𝘨𝘩𝘦𝘦 𝘴𝘱𝘦𝘢𝘬𝘴 𝘵𝘰 𝘵𝘩𝘦 𝘲𝘶𝘢𝘭𝘪𝘵𝘺 𝘰𝘧 𝘵𝘩𝘦 𝘪𝘯𝘨𝘳𝘦𝘥𝘪𝘦𝘯𝘵𝘴 𝘸𝘦 𝘶𝘴𝘦.
Starts at $7.
Buy Now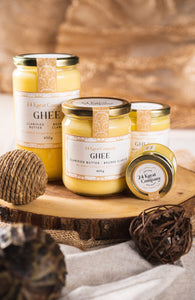 Hair and Beard Oil
This nutrient dense blend is made up of eight different oils that nourish, moisturize and balance your hair, beard and scalp. It can be used as a leave in conditioner and/or as a treatment to promote healthy, shiny locks.
Buy Now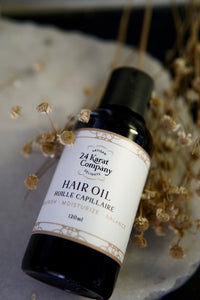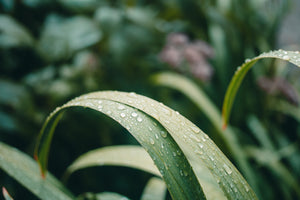 Our aim...
After fighting life threatening illness at the age of 34, we decided as a family that we had to make changes in our lifestyle. We worked hard to formulate artisanal products that contain high quality ingredients and leave out harmful ones.
Our ghee is made with Canadian butter sourced from local farms. The aroma and flavour, not to mention the health benefits are unbelievable!
You will find natural and clean skincare as well as hair/beard oil here. Our cookies, rock buns and cakes are scrumptious, baked with organic flour and free run eggs.
Our company name reflects the quality of our products and serves as a play on words for our most popular signature cake - Carrot cake.
Take me to all products
Testimonials
First came into contact with this company at a weekend festival. They were friendly and they educated us about Ghee. We use it all the time. They gave us samples of their baked goods and oh my goodness everything was so delicious. Just finished ordering and receiving a new jar of Ghee. Everything went smoothly. if you ever get a chance to try the rose cake take the opportunity. It is so good. We are happy that we can get our Ghee shipped to us. Hope to see them in the future at another event.

Pam Moss
I've been using their toner moisturizer for over a year now and I absolutely love it! Also the rose cake is 💙. Absolutely recommend!

Zia Farooqui
Best Ghee ever... Tried many brands, this one smells so delicious as well as the incredible taste!

Sandra London-Rakita